Understanding your CPD requirements
Continuing professional development (CPD) helps reinforce knowledge and addresses topical issues, trends and legislation changes. CPD contributes directly to raising industry standards by helping to ensure licensees understand their role and the rules and regulations.

This page describes your CPD requirements when you apply for an exemption and what happens when you suspend your licence. It also describes verifiable and non-verifiable training.
In 2022, the 10 hours of verifiable training will be made up of 4 hours of mandatory topics and 6 hours of elective topics.

Your requirements
Licensed real estate professionals must complete at least 20 hours of CPD each year by 31 December.
This consists of:
10 hours of verifiable training delivered by approved training providers. In 2022, the 10 hours of verifiable training is made up of 4 hours of mandatory topics and 6 hours of elective topics.
PLUS
10 hours of non-verifiable training on other topics and types of learning.
If you don't complete the training by 31 December, your licence may be cancelled in January of the following year. If you are reviving your licence, you must have completed the training during the preceding calendar year.
Any training directed by a CAC or Tribunal does not count towards CPD requirements.
View the list of approved training providers here.
Do I need to complete CPD in 2022?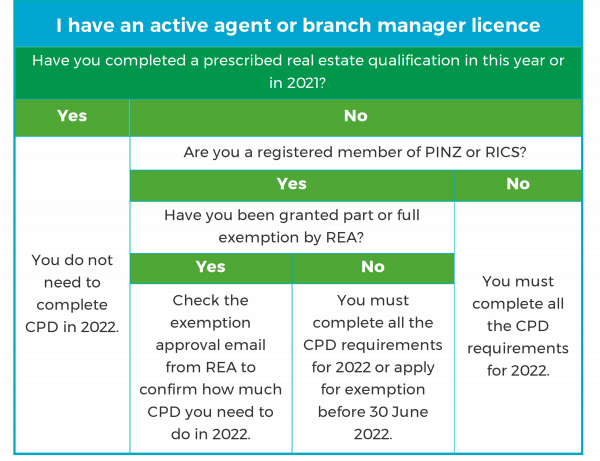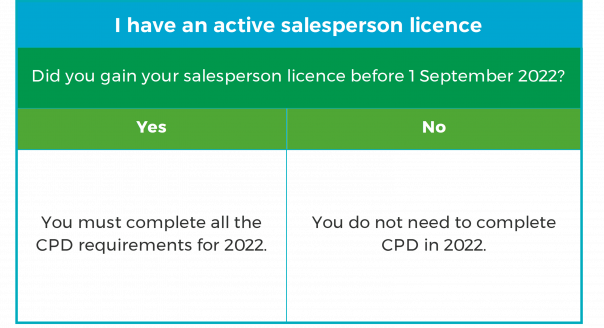 Refresher training
Refresher training will be reviewed in early 2022 and will be posted accordingly. In the meantime, you can continue with the 2021 refresher materials.
Refresher training is 10 hours of verifiable continuing professional development delivered by an approved training provider. You will need to complete the refresher training course if you revive your licence after it has been suspended for more than 12 months. You have 3 months from the date your licence is revived to complete the training.
The refresher training course covers the following topics:
Code of conduct overview
Disclosure: obligations to your client and customer
Agency agreements
Anti-Money Laundering: Your compliance requirements
Physical property inspection
Ethics
CPD rules notice
REA's continuing professional development (CPD) programme replaced the previous continuing education programme in January 2019.
The CPD rules are set out in the Real Estate Agents (Continuing Professional Development Rules) Notice 2018. CPD rules notice