2019 Annual Licensee Survey results
This year's Annual Licensee survey went out to all 14,234 active licensees and covered off a variety of important questions that directly affect licensees and the real estate industry as a whole.
Some of these survey results can be found on Our public reporting page in our Statement of Intent, our Statement of Performance Expectations and our Annual Report.
This year's survey had a total of 1,638 complete responses and over 7,000+ comments.
Here are some of the findings:
Question: Thinking about the last time you contacted an REA staff member, to what extent do you agree with the following statements?

69% of respondents find REA staff to be helpful.
72% of respondents find REA staff to be friendly.
68% of respondents find REA staff to be knowledgeable.
Licensee comments:
"I don't expect that people will know everything so all is good. I appreciate your support on a personal level. Thank you."

"Biggest issue I have is if I or others ask for clarification there is usually no commitment or straight answer."

"It has been a few years and was a complaint laid against me. The REA staff were great to deal with, they seemed to know what they were handling in not a great situation and very knowledgeable, friendly and practical. The complaint was found completely baseless and they were very respectful, non-judgemental and helpful."

"I am a business broker and when we call the REA they don't seem to know much about our industry. It would be good to see business brokers looked after a bit more."
Question: To what extent do you agree with the following statement about CPD?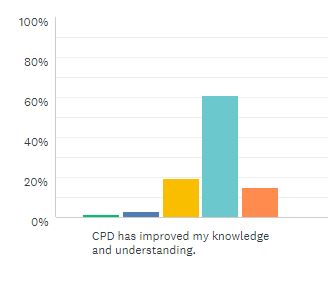 76% of respondents agree that CPD has improved their knowledge and understanding.
Question: Currently, new licensees who have attained their salesperson qualification are exempt from CPD requirements for the calendar year in which they attain their qualification and the following year. Do you agree that new licensees should be exempt from their CPD requirements as above?

Licensee comments:
"The course covers very little. CPD has practical implications. New licensees should be held to the same standard."

"I have found in my experience that new salespersons are still very unsure of the rules law and requirements. I feel they should be included in CPD sooner."

"They have just completed all up-to-date and relevant material so there's no point in them attending verifiable training in their first 12 months."

"They know less than everyone else in the industry that has come into real-life situations where they have to use what they were taught on a course - the new licensees should also do CPD so they can learn from real-life situations that others in the class bring up as examples. It will solidify their current knowledge."
Question: Do you find the level of engagement between REA and the industry to be: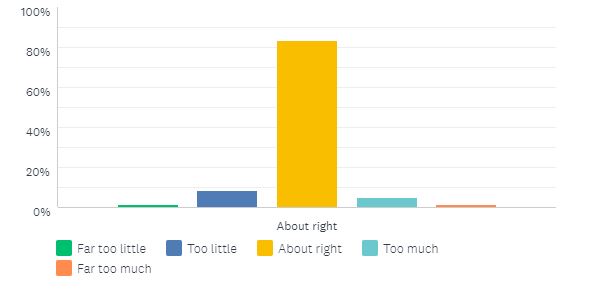 Licensee comments when asked 'what other support would you like to see from REA?':
"I feel that currently, REA is about the right balance. It is important that both the industry representatives as well as clients and customers are protected and educated."

"Recognition of the stress that the heavy handiness of the enforcement regime of the past years has placed on industry members and the resulting health and wellbeing problems members are now facing. The outcome has had the opposite effect that was intended when this legislation was proposed."

"I would like to see the REA do spot checks/audits on the management and knowledge of real estate offices, as I continuously see and hear completely wrong practices being performed and very slack real estate work undertaken from many other offices. Usually regarding the lack of homework that agents have to do on their listings."
"Sending people to sit in our offices and listen and observe what actually occurs at the coalface. Perhaps even come to appointments. We'd welcome that."
Question: REA launched settled.govt.nz (an independent consumer information website and Facebook page). Have you visited settled.govt.nz?

Of the 61% of respondents who said they have visited settled.govt.nz, 71% of them have recommended or shared it.
Licensee comments:
"It is a website I refer to many buyers and also those who need financial advice when buying a home. I often forget that sellers should also know about this site."

"While I don't agree with all of the information (some is a little subjective) I believe it acts in the best interests of the Consumer and any queries I have from this information is easily answered. I recommend the web site as it allows the consumer to take advice independent from me in the first instance. Which allows for some protection of my advice."

"We recommend all our clients to this website, esp 1st time & overseas buyers. Most of them are not aware of this website."

"This is a fantastic site. I have used it many times myself but have also sent customers to look as well. Very user friendly."

"It doesn't change the way I do my job. It's a resource for the consumer - they are always useful provided you do a good job of letting the consumer know they are there."
Question: In general, would you describe the consequences of a complaint decision for licensees found guilty of unsatisfactory conduct or misconduct to be too tough or too lenient?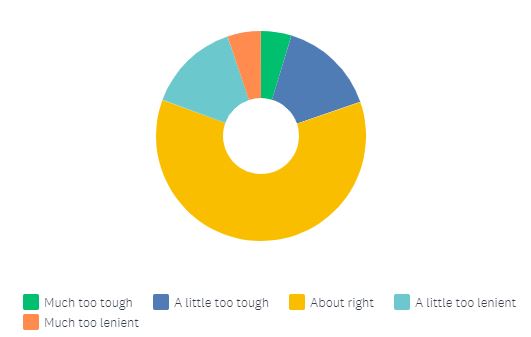 60% of respondents said the consequences of a complaint decisions was 'About right'.
Question: What are the big issues that you face in your role or within the industry that impacts your ability to carry out your work?
Licensee comments:
"It's a minefield with agents having to know just about everything, at the mercy of the vendors who don't always tell the truth, and the buyers who are quick to attack us but don't even respond to our phone calls or emails after they visit our open homes. Very stressful."

"Too much time is spent on compliance issues and making sure that every transaction is fully documented. AML, Purchaser's Consent, Vendor's Consent, Complaints policy, REA Guides, OIO Form, OIO Information Form. Now when an agreement is written up there are at least 7 further pages that need affixing to the S&P Agreement. And the bulk of these are just to show that the agent hasn't done anything untoward."

"Getting vendors/buyers to understand the rules we operate under. In particular, we meet quite a few old school vendors who want us to sell their property without a listing saying just bring us a buyer - we spend a lot of time explaining why under the REA rules this is not possible- an ability in the rules for a list and sell would assist in these situations."

"With the new AML requirements and also the measures we now have to take when marketing and selling a home makes this a heavy administrative role these days. Not ideal for a 'big picture' salesperson."

"T

he vastness of topics and information we are supposed to be experts on and are liable for if we don't or misspeak. There are so many ways to land yourself in trouble despite best efforts not to. It appears increasingly difficult career to be in or enter for new people."

'The behaviour of other real estate licensees. There should be more undertaken to deal with those who are not following the regulations. This may sound like I am splitting hairs here but there are so many licensees that are continuously pushing the boundaries and abusing the local council signage bylaws and the material that they are posting out is not entirely accurate."